Hotel Introduction
The Loft Seaside Suite Hotel is one of hot spring resorts in Taiwan that provid services with delicacy in traditional Japanese way. Ocean hot spring, Japanese style bathrob, well designed guest room, In-room dining service, Japanese Kaiseki cuisin, and hotel recreation are six basic themes that you should totally experience while staying at the hotel.
Tel:02-2408-2559
Hotel Address:No.166-1, Wanli Jiatou, Darpon Village, Wanli Shiang, Taipei County, Taiwan
Room Introduction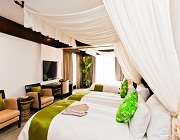 The Loft Seaside Suite Hotel has 50 stylish and well-designed ocean hot spring guest rooms. The style of hotel rooms can be divided into two major categoaries namely the western style rooms and Japanese tatarmi style rooms. The philosophy of modern minimalism has fully been applied on the designation of the western type of the rooms. Japanese tatarmi style rooms are fully complied with the culture practice of "Japanese Zen". Despite the rooms, other spaces of the hotel are all design in the way of elegancy to satisfy the noble taste of our guests. Additionally, the foyer, Japanese style sliding door, washbasin, personal Kuan-Yin stone made bathtub, ceramic wear, and Japanese painting and other amenities of the room are carefully selected and build by the hotel to provide a best living spaces for your stay.The hotel has following type of the rooms:Sunflower room (Double room), Lavender room (Double room), Hei An Tatarmi Style (Japanese style room for maximum of 4 people), Momoyama Tatarmi Style (Japanese style room, 4 people room), Asuka Tatarmi Style (4 people room), Deluxe Suite (6 people room), Garden Suite Tatarmi Style (4 people suite), Sea Gaia Suite (6 people suite)
Leisure Facilities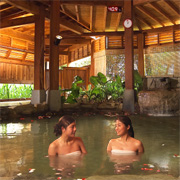 Bath House
The hotel has 17 delicate personal indoor bath house. This is a best place to enjoy if you want to have a hot spring bath individually and privately. Each bath house is fully equipped with bath towels, best quality shampoos, bath foam and body lotions which are all imported from Japan, it is the purest place with the amenities for sure that you can totally relax your mind and soul.Outdoor hot spring bath pools
"Sakura"(Female Pools)and "Shoubu" (Male Pools) are carefully named to best present Japanese style hot spring bath conception. The floor of outdoor hot spring areas are constructured fully by a timber of the Chinese cypress wood and the spaces are decorated by a noble Chinese bamboo to create an environment that best closed to the mother nature.[The Sea Gaia]
a 42 seats, 50 tons, and 82 inches long luxuary cruise boat is absolutely one of the recreations that you should not miss while staying at the hotel. Arrangement of habour cruise along the North Coast area, boat fishing at night, and personal boat party are all aviliable for the yacht at reasonable cost.[Jim Centre]
is not only provided various modern fittness equipements but also table tennis, soonker facilities and etc.
The hotel also provides bicycle rental service which is one of the best ways to see and visit some of the tourist attractions near by the hotel.
Restaurants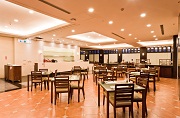 Shin Man Japanese Restaurant
The restaurant is one of the best places in the hotel that you can satisfy your taste bud and total relaxization of your mind. Shin Man restaurant is an unique and elegant Japanese Kaiseki restaurant of Seagaia Spring Hotel, is located on the right of the lobby. Japanese Kaiseki and modern creative hot spring cuisine are both well recommand by hotel guests. The beauty of traditional Japanese Kaiseki cuisine lies in the seasonal changes in ingredients and with the dishes present in the traditional Japanese countrified way. The『Shin Man』restaurant always insist on the principle of using the freshest ingredients in the dishes, this is one of the most elegant dining spaces in the hotel.
Peripheral Scenes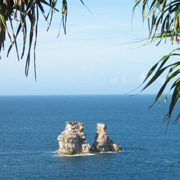 Local Tourist Attraction
*Jinbaoli Historic Street
*Temple of Eighteen Lords
*Jinshan hot spring
*Juming Museum
*Candlestick Twin Islets
*Shitou Mountain
*Yeliu Geological Park
*Chingshan Waterfall Hiking Path
*Fuji Fishing Harbor
*Yehliou Geopark
Directions
Traffic Information
Distance from major traffic hubs:
100 minutes drive from CKS International airport.
60 minutes drive from Taipei Railway Station.
40 minutes drive from Sung San (Domestic) Airport.
30 minutes drive from Keelung Railway Station.
Local bus information:
Take Kuo Kuang Bus (Jin Shan Line) from Taipei Bus Terminal just next to Taipei Railway Station or from major bus stop next to MRT station along Chung Xiao East Road. The bus depart around 10-15 minutes on peak time, and 20-30 minutes on normal time.